January 2011
January 3rd, 2011
SHAKESPEARE'S MOUSETRAP - KINDLE EDITION
"Shakespeare's Mousetrap", a short story set around a startling production of Shakespeare's Titus Andronicus, has been released for the Kindle. It can also be read on any iPad, Android, Windows PC, Mac, or Blackberry device by using some of the free Kindle Reading Apps.
Young Will Shakespeare has a bit of a problem: Murder most foul. As in the best it is, award-winning author Margaret Frazer proves that the play's the thing when crimes of passion are put center stage in an all-too-revealing production of Titus Andronicus. A murderer seeks to unlock the secrets of Shakespeare's playhouse, but the actors won't be the only ones to die once the blood-drenched spirits of the past walk the boards to find their revenge…
This story bears a fair degree of resemblance to Shakespeare in Love, but it was actually written and published before any of us had seen that delightful film.
To write it I had to break a long-held promise to myself – that I would never, never, never write a story with William Shakespeare as a character. Never.
Then Mike Ashley struck again. I had already written "The Death of Kings" for his first collection of Shakespearean whodunits, but there had not been room in that anthology for stories for all of Shakespeare's plays, so there was to be a second volume – The Mammoth Book of Shakespearean Detectives – for the rest of the plays, sonnets, and poems, and authors were asked to choose their play.
Unfortunately, I was not habituated to e-mail at that time and would go days at a time without checking mine (in that long ago time of 1997 there was not that much that came anyway), so by the time I read Mike's invitation and responded… Well, with one thing and another I ended up with Titus Andronicus. And if you just laughed aloud, dear reader, it means you are acquainted with that play and its full roster of murders (very much in the plural, those murders), rape, mutilations, and inadvertent cannibalism. I was supposed to write a mystery around all of that?
Happily, the Folger's edition of the play provided me an intriguing piece of information: There was a pamphlet extent in Elizabethan England telling the story of Titus Andronicus in all its gruesome criminality – but the crimes in the pamphlet are not an exact match to those in the play and the order of them is different from the play's. If this was Shakespeare's source, as it seemed sure it was, why did he change the crimes? It was not as if he made them uglier or, alternatively, "nicer". They were equally ugly in both works. Not that Shakespeare couldn't do whatever he wanted to with his sources (and certainly did), but I needed an idea for a story…
And so I broke my long-held resolve and wrote a story with Shakespeare as a character.
And if the telling of the story seems a little terse, it's because for this one I had a limit of 5000 words, and packing all the needed details of pamphlet-versus-play, plus characters, setting, and plot into that tight of a package was as much of a challenge as figuring out where there could possibly be a mystery in a play so openly full of crimes.
I had a wonderful time.
- Margaret

January 6th, 2011
FACEBOOK FAN PAGE

I'm continuing to creep my way into the 21st century with a Facebook Fan Page. If you're on Facebook, give it a quick click and a "Like".
- Margaret

January 10th, 2011
A MEDIEVAL YEAR IN ENGLAND:
JANUARY
Janiveer
Freeze the pot upon the fire.

As the day lengthens
The cold strengthens.

If grass grows in Janiveer,
It grows the worse for all the year.

If January calends be summerly gay,
'Twill be winterly weather till the calends of May.

A January spring
Is worth naething.

This is the coldest of the months, with the cold expected to increase as the month goes on and warm weather considered more treacherous than good.
On the land this is something of a slack time for work but preparations for spring go on. Dung is gathered from barns and privies to be spread on the fields while the ground is frozen. Wood is cut for fuel. Tools and hedges are repaired; walls are repaired or made. Seed grain is checked to be sure it is keeping well, and ewes are readied for lambing time. In less harsh parts of England, lambing may begin now since ewes are milked from lambing to Lammas (August 1) and the earlier they lamb the longer they can be milked. Cows are expected to be calving now, between Christmas and Lent, and sows are breeding. In barns threshing of last harvest's grain continues when the weather is too cold for working outside.
For hunters, the boar, roe deer, hare, wolf, and fox are now fair game. Fresh foods are few, mostly only what has been salted away or dried are easily available. Hopefully there is enough to last until summer.
But this is a month of holidays that help to ease the cold and dark of the short days and long nights.
January 1: The day of the Circumcision of Christ. Also popularly known as New Year's Day. Though officially, in church and government records, the year-date will not change until March 25, this is popularly held to be the year's beginning, with gift-giving and celebrations. The custom of Wassail (from the Saxon phrase Wass Hael: To your health) is very old – the lord drinks first to everyone's health from the wassail bowl that is then passed to the next most important person present and on around the household in order of precedence Ceremonies of the day vary from place to place. The church tries repeatedly but unsuccessfully to outlaw the custom of men dressed in animal skins and heads running through the streets.
January 5: Twelfth Night Eve. A time for rituals blessing the fields for the coming year. At night the men light bonfires in the fields and stand around them drinking wassail to the farm's health in ale or cider, shouting and cheering to scare away evil spirits. Every field needs to have a fire and circle, and when all have been wassailed, the men return home to feast before going out again, now to all the buildings and beasts to drink to their luck and health.
January 6: Epiphany. The Twelfth Day and Night after Christmas and almost as major a holiday. It ends the Christmas season. Today all house decorations should be down lest they bring ill-luck, though they may stay in churches until Candlemas. There is feasting and sometimes bonfires and traditional games that depend more on luck than skill. Everywhere there is a special cake baked with a bean in it, and whoever finds the bean in his piece is King of the Bean and his word is law until the day ends. Sometimes there is a Queen, either by his choice or by lot, and a "royal" court.
January 7: St. Distaff Day. A nonsense day named for a fictional saint, when people are supposed to be returning to work after the Christmas holidays but instead indulge in one more day of jokes and trickery.
The first Monday after Twelfth Day is Plough Monday. Ploughmen – whose hardest time of the year will soon begin – decorate themselves with ribbons and take a plough likewise decorated and dressed up with ribbons in procession through the neighborhood. Besides themselves and the Fool Plough, there are a man dressed as an old woman named Bessy, and a Fool, and sometimes morris dancers. Together they collect money for candles called ploughlights to put in the church for blessing of their work. The plough itself may be brought into the church for the priest's blessing, and there is feasting afterward.
January 14: St. Hilary Day. Traditionally supposed to be the year's coldest day. Also about now the law courts reconvene for Hilary Term.
January 20: St. Agnes Eve. Tonight young women who wish to dream of their future beloved should perform certain rituals to win their dream, but the rituals differ from place to place.
January 24: Conversion of St. Paul. The weather today is supposed to forecast the weather of the coming year. Fair weather means a prosperous year; snow or rain foretell an unfruitful one; clouds warn of mortality among the livestock; winds mean there will be war.
- Margaret

January 12th, 2011
THE DEATH OF KINGS - KINDLE EDITION
"The Death of Kings", a short murder mystery based on Shakespeare's Richard II, has been released for the Kindle. It can also be read on any iPad, Android, Windows PC, Mac, or Blackberry device by using some of the free Kindle Reading Apps.
A golden world all turned to lead for a king who was once more golden than it all...
Join King Richard in his final days atop the rocky battlement of Castle Flint. All the realm has risen in rebellion against him, and there is little hope now of any salvation as the murderous armies of Henry Bolingbroke draw near.
But hidden in the sullen remnant of a royal king's court there is a deadly intent. When all the world has turned to death, can one man commit a crime so foul that none shall ever know of it?
Award-winning author Margaret Frazer visits the world of Shakespeare's Richard II. Come sit with her and hear the sad story of "The Death of Kings"...
This was the first of my three short stories based on the plays of William Shakespeare. Editor Mike Ashley was behind it, asking for a story for The Mammoth Book of Shakespearean Whodunnits. His idea was to have a story for each of Shakespeare's plays, and authors were each supposed to choose the play they wanted to use for their story.
I put in an immediate bid for Richard II. I had been all of sixteen years old when I saw a performance of this play by a local theater group – the Genesius Guild, may it live forever – and was completely caught up by the stunningly beautiful language, the unsettling, ambivalence-creating dynamics among the characters, and the themes of honor, duty, and treachery, and costs they exact. Fascinated, I followed my curiosity into medieval England, and out of medieval England I have never gone (to the sometimes dismay of my near and dear, let alone of innocent bystanders). So the chance to write a mystery story using this favorite play was not to be missed.
And I have only happy memories of writing the story, of letting myself go more poetical with the prose than in any other of my published work up to that time. Nor had I done anything in first-person narrative before this, and I found it very liberating. Some stories simply need to be told in the first-person. It's not a style I use frequently but enjoy when I do.
The one main problem I found while writing this story was the need to fight against my instinct to "get the facts right", historically-speaking. For one thing, not all the people whom Shakespeare has with King Richard when he is taken prisoner are people who were actually there, and at first I found myself casting the story according to the history books instead of according to Shakespeare. To take myself firmly in hand, remind myself that this was a Shakespearean whodunit, not an historical whodunnit, and write it accordingly, proved disconcertingly hard.
- Margaret

January 17th, 2011
THE OUTLAW'S TALE - BOOK TRAILER
A book trailer for The Outlaw's Tale, which has just been released as an ebook for the Kindle, can now be found at Youtube. Or by pushing the "play" button up above. I'd love to hear your comments on my Facebook fan page!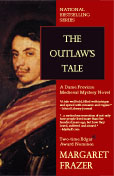 - Margaret

January 24th, 2011
WE WANT YOUR REVIEWS
My ebook manager told me that the best way for an ebook to stand out from the crowd is for it to be reviewed. He said, "Reviews from readers have probably never been more important in the history of publishing."
So I've hatched a scheme: I need readers to review. If you're reading this, you're probably a reader of my novels or short stories.
So if you've got a couple of spare minutes, please pop over to the list of my Kindle ebooks here on the website. Pick a novel or short story that you've read, click on the cover to go to Amazon, and then post a review.
To offer a little encouragement, I'm also going to hold a drawing for two signed copies of A Play of Piety for anyone who posts a review between now and February 28th. Here's how it will work:
(1) Post a review at Amazon of one of my books or short stories.
(2) Wait for the review to be publicly posted.
(3) Send an e-mail to contest@margaretfrazer.com with a link to the review you wrote.
(4) On February 28th, I'll draw two names. If your name is drawn, I'll send you an e-mail, get your snail mail address, and mail you a copy. (The signature can be personalized however you'd like it.)
It's that easy!
Please note that the review doesn't have to gush with praise. Just be honest and thoughtful. The contest isn't meant to be a bribe; just a thank you for everyone who can take a couple minutes out of their busy days. For the same reason, don't review a book or short story if you haven't actually read it!
UPDATE: Some people had some questions for me.
CAN I WRITE MORE THAN ONE REVIEW? Sure. For each review you write, you'll get one entry in the drawing.
DO I NEED TO OWN THE KINDLE EDITION? No. All of my Kindle books and stories to date were previously available in print, and if you've read them in print you should feel free to review them.
CAN I REPOST A REVIEW FROM SOMEWHERE ELSE? As long as you wrote it, sure.
I ALREADY OWN A PLAY OF PIETY! CAN I GET SOMETHING ELSE? If you don't want A Play of Piety, I'll give you two free ebooks of your choice. (From among those listed on the Kindle page. For legal reasons, if the Kindle edition doesn't appear on that page I may not be able to send it.)
- Margaret